MileHiCon 34
Critter Crunch
Oct 20, 2002
Lakewood, CO, USA
---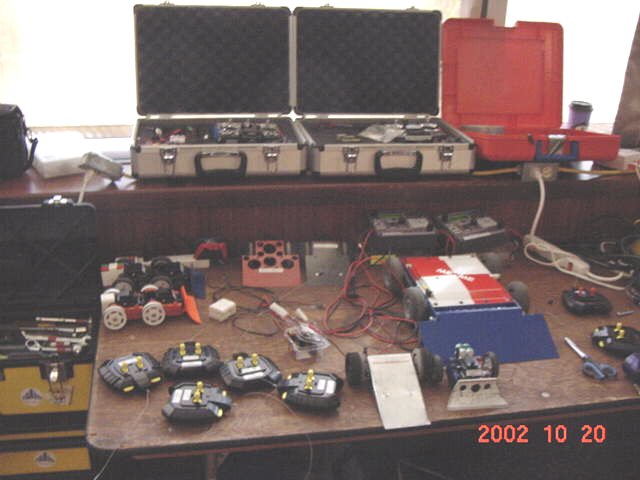 ---
This event was held at the Sheraton Hotel, in Lakewood, Colorado a suburb of Denver. This was the shortest trip ever for us, but just as tiring as I didn't get the bot-mobile loaded until 2:00 AM and had to get up at 7:30 AM to be there at 9:00 AM. My neighbor, and new bot/critter enthusiast, Rich Bradfield spent most of the Saturday before getting the 9 critters ready for this event. We had some trouble with the Battlebot toy platforms we were using for most of the critters, and Rich's critter CoMotion, actually went through four toys before we got two that worked well together. Fortunately, we ahd loaded up on Battlebot toys as Target was selling off their Battlebot related toys stock at half price.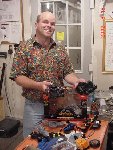 When we got to the hotel we were pleased to see past Robotdojo team members, Barry Anderson (BB4) and Jeff McLay (BBIQ, BB5) with their families and their 2 pound entries. Jeff's brothers Robert and Trevor had built bots from BB toys as well. A previous visitor to the Dojo, Christopher Jarmons and his Dad, showed up with their first time entry. My sister Ricky and my brother-in-law Dan Juanillo, also showed up from Colorado Springs to give us support from the bleachers. Fellow competitors from the MURC event, Ted Zeigler and Tyler Nicely were there, all teamed up to wreck havoc on all opponents. Rich and I were looking forward to fighting that pair.
The matches were held on an 8' x 8' platform, 4 inches off the floor. The surface was made out of wafer board which made for lots of sawdust during the 20 lb matches. Critters have to fit, at the start, in a 12 inch cube. The matches were best 2 out of 3, with no time limit (arbitrated by John Morse who then declared a tie). For the most part, every critter went against every other critter, where you got 2 points for a win, 1 point for a tie and 0 points for a loss. The founding club, Denver Mad Scientists, of Critter Crunch used tethers to control their critters. The event did not have any frequency control system, as prior to this event it had not been a problem. There was one critter, based on a 49Mhz wideband toy car, that would override and kill the 49mhz narrow band critters based on BB toys. You were dead as long as he was transmitting.
Team Robotdojo, using Ted Zeigler's clever ploy of using two MURC legal bots to form a 2 lb Critter, combined Tinbender and Blizzard to form one critter, and Plane-Jane and Holy-Moly to form another. I also entered Tandem and Rich entered his CoMotion in the 2 lb class, so we had to borrow extra team members (the McLay boys) many times to fight ourselves.
In the 20 lb class, Tyler Nicely brought his 6 wheel/6 motor creation, Ted brought Gemini, a pair of identical 10 lb critters, driven by himself and his girlfriend, Kathy. Robotdojo entered Me-Me, but because it only weighed 17 pounds, added Plane-Jane and Holy-Moly on top to add confusion and to hopefully get in the way of the opponent(s). It wasn't very effective but the crowd loved it (about 200 watching). I drove ME-1, Rich Bradfield drove ME-2 and Trevor McLay drove ME-3. Its all about ME! Our Digital Camera's battery ran out of juice (I can remember to charge the bots, but never that dang camera!) so we didn't get many pictures of the 20 lb class. Maybe somebody will be kind enough to send us some.
An 8' square is not really very big to manuever, even for a 12 pound critter and many losses were due to driving errors by the faster critters and the 51% multibot angle where the aggressor would drive itself and its one multi-bot component off the platform leaving the other half on the deck. Under Battlebot rules it would have gone the other way.
2LB Critters - In the final match Robotdojo's Tandem was able to defeat the multibot combination of Ted's Ether and Tyler's creation (I'm sorry I'm not remembering all the names here), but because of an early loss, the points were not high enough for the overall, giving Tyler Nicely his first robotic championship along with seasoned veteran Ted Zeigler. Tandem came in 2nd, and Robotdojo's Blizzard and Tinbender critter-combo garnered a 3rd. There were 20 2 lb critters in all, and it was great fun. The veteran Mad Scientists didn't know what to make of the Multi-Bot angle




20 lb critters - There were 7 or 8 critters in this class. the MURC members were all radio controlled, the Mad Scientists were all tethered. Only the controls, no power, is on the tethers. I think that tethers destroy the illusion of the critters being robots, but this event goes back 15 years. After all the critters competed with one-another, The local club champion, Fang, met Me-Me, who was now being called Me-Me-Me (three critter-combo), in a playoff for all the marbles as they were tied in points. Fang had suffered it first ever defeat earlier against Ted's Gemini twins, but that pair had lost to my Me-Me-Me in their round. Me-Me-Me got the first round when her wedge got under Fang's forks. But the next two went Fangs way (I still need to learn how to drive these things better!). The other drivers on Me-Me-Me were Rich Bradfield and 8 year old Trevor McLay (who's older brother Jeff won Battlebots IQ as part of Team Robotdojo). Final results, Fang 20 lb critter champ, Me-Me-Me 2nd, and Gemini 3rd.


As in any contest, knowing the rules and using them to your advantage, and to design your bot-critter to the event can be the difference between winning and losing. This was great fun, lots of fights for everybody, and Ted did a good job of promoting MURC at the event. They told us that the MURC critters raised the bar for their event, and the Mad Scientists will be tinkering in their cellars making new creations.
---























































---
Copyright © 2012 Mike Konshak. All Rights Reserved.
Contact HM 303-673-9853