FULL FRONTAL FULCRUM
Middleweight (120 Pound class)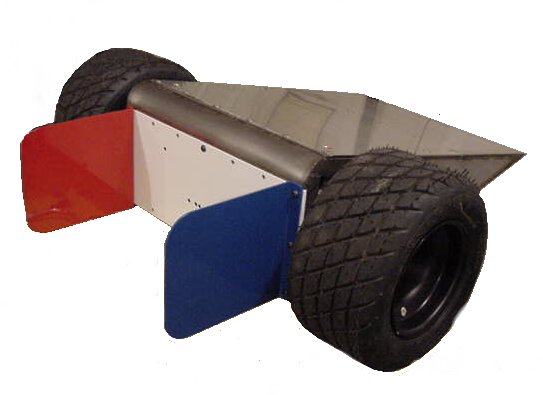 Botbash 2002 120 Lb MERC Champion!

MechWars V Middleweight Champion!


This middle weight was originally created as a response to a challenge by Bob Pitzer (Team raptor) to come to BotBash. It looks similar to Jeff McLay's Wee Willy Wedgy but has refined construction features to make it easier to swap out broken parts in between combats. I spent a week designing it, along with its Battlebot counter-part Iron Maiden, using Pro-Engineer Solids Modeler version 2000i2. I began construction on 8-17-2002. The frame of the chassis is made of .049 thick 4130 Chromoly steel. The armor and cover are made of .125" thick 304 Stainless Steel laser cut by Star Precision. The chassis is welded using my faithful Lincoln 175 square wave TIG welder, which I bought at Battlebots 3.0. The drive motors were provided by WCMS and are Quickie P200 wheel chair motors with the brakes taken off and the casting cut down. I'm using the 900 mhz IFI Issac16 robot controller with two Victor883's, all of which are mounted using EAR elastomeric grommets for shock isolation. An alternative R/C receiver can also be used, in particular the Futaba 149dp PCM set up for 75mhz surface operation. The battery compartment is set up for either two 12V Hawker Genesis EP13's (wired for 24V @ 13AHr) or two 12V Hawker Odyssey 545's (wired for 24V @12AHr). The Mondo power switch is provided by Team Delta. The go-kart wheels are made by Douglas wheels, and are a special Heavy duty wall thickness used exclusively by RobotDojo robots. The Barrus tires are rain slicks in a race compound.

Picking up the Stainless Steel Covers at Star Precision (Willy and Dale).
---
Building Full Frontal Fulcrum
I've put the whole sequence of building this bot as a tutorial as one method of construction that most anyone can do without expensive machinery. I use a horizontal/vertical band saw to cut tubing, a drill press for holes (get a couple step drills besides the regular drill index), a sander and grinder, and a TIG welder. You will also need some clamps to hold your work while welding. I also recommend a tool which puts in riv-nuts, which are threaded inserts that can be put in blind holes, much like a pop-rivet gun.
---