BotBash 2002

September 13-15, 2002
National Guard Armory, ASU
Tempe, AZ, USA
---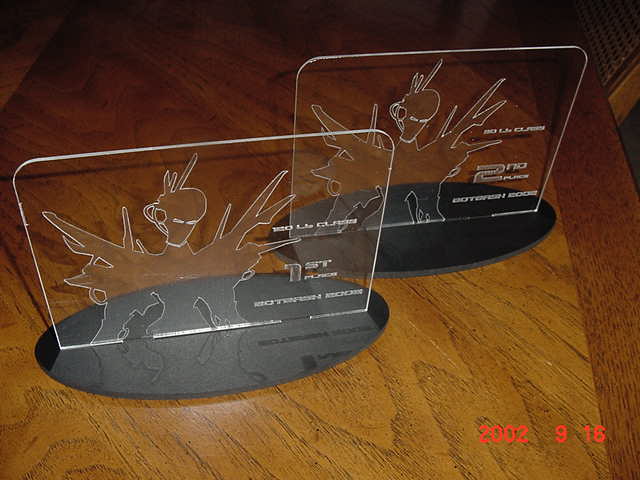 Mpeg of start of a 30lb bot soccer match (344 KB)

Mpeg of start of a 120lb Annihilator match(344 KB)
---
All right! Another competition only two states away! Becky and I loaded up Tinbender Wedgeward-Ho and Full Frontal Fulcrum all of which fit very easily in the back of the Bot-Mobile which is used to carrying 3 to 4 bots weighing up top 340 lbs. Except for Tinbender, which made its debut at MURC, the bots were designed and built in three weeks. It took us 13 hours to make the drive out of Colorado, through New Mexico and into Arizona, and the only country we got to see was the desert as most of the trip was in the dead of night.
We weren't at the hotel longer than 30 minutes before we took out Tinbender and were fighting in the lobby with other, soon to become friends.
The official hotel for Botbash was the Quality Inn on University Ave in Tempe, AZ, which was just down the street from the campus. The National Guard armory, which was being used for the event was across the street from the Arizona State University Stadium. The arena was placed inside the building and the pits were located in a large tent alongside the arena. Both structures had air-conditioning brought in to make the otherwise sweltering weather bearable. The SOZBOT arena and bleachers were strategically placed in the armory, along with a bandstand, which was to provide 'industrial' music (I use the term 'music' here loosely), and overhead screens to allow full view of every fight for the audience.
BotBash is the brain child of Bob Pitzer and his brother, Chuck Pitzer, designed the new mobile arena. It is built on a large trailer and expands out hydraulically like a transformer. The arena had more mechanisms and moving parts than most of the bots in attendance. I think Chuck must have worked for a carnival before, you know, the ones that have the entire ride on a trailer? I can't wait for them to haul and set it up in my local town square. Please?
In this all-new-improved-robotic-combat, Bob designed Botbash for maximum crowd appeal and builder enjoyment, which involved teams of two bots competing against another two bots. Each time you fought you had different partners and different opponents. Lets see, the enemy of my friend is my enemy? or my friend? Anyway, you ended up fighting with or against everyone else. It made for great camaraderie and great sport as we combined strategy, skill and a lot of luck to try and make goals with a ball which refused to roll straight or to fight to the death in the Annihilator. There was also a capture-the-flag competition that a few of us competed in late the Saturday, but it was set aside Sunday to make everything else, including the 1lb SOZBOTS competition, happen on time. Since everything was double elimination, everyone fought at least 4 to 6 times (and more) so if you brought more than one bot (me) you were busy bot-puppy. The main ways to win were to actually get a goal with the ball, put your opponent into the pits, or just plain knock them over the 6 inch rail to the floor below. Most everyone spent some time on that floor alongside the arena trailer.
The 30lb bot, Helios from Team Cosmos (Ted Zeiger and Pete Covert) did the most tossing of its opponents, including Wedgeward-Ho, of all the bots there. You were glad when you drew Helios as a partner, but terrified if you were an opponent. Dan Danknick showed up with an Omni drive 60-lbder, called Archetype, with a spinning blade powered by..you won't believe it...an Etek! Donald Hudson showed up with just the front of an earlier revision of Dissector which he called Karcass. You were fortunate to pull Donald as a team mate as well. Don and Dawn Hudson were there on the tail end of their honeymoon. Congratulations you two!
Besides our RobotDojo bots, there were many others from Colorado present to counter the many California bots. Ted Zeiger and partner Pete Covert brought Helios and Alpha Pujo, Derek Zahn brought SunFlower, Barry Anderson brought Worm Burner and there was a very nice family from Basalt, CO. Some competitors came as far away as the east coast, Tony and Sarah Hall from Massachusettes and young Devon from South Carolina. I spent most of friday helping Devon rewire his 60 lb bot D2, although I had originally planned on sleeping the whole afternoon back at the hotel since we drove all through the night getting there after work.
---
All the Colorado Sozbot entries fought in a rumble against all the other Sozbots and the Colorado team won hands down. Three of us were taking so long to do a last man standing that they declared a three-way winner, with Tinbender present, of course.

Fortunately Besides Becky-the-bot-Mom, I had my twin sister Ricky and her husband Dan Juanillo there as pit crew, and as an added bonus, Tim and Loreen McTigue, who I met at Robot Wars in England, came up from Yuma, AZ to also be on the team. Unfortunately, when cameras were present they seemed to be in other locations. With these husky men around, the ladies could sit back and gossip about their new roles as bot-widows.
---
As far as my all-time favorite competitions for builders/drivers, I place BotBash second behind Robotica. The format is just great fun! Speaking of Robotica, Mark Joerger, The Robotica Series 1 champ was there as a judge, all the way from Oregon, and the two of us put on a short but decisive grudge match between us, as the two series 1 and 2 champions. Tinbender was doing well until it made a slip and got on top of Mark's Rat trap (which is an actual rat trap) and when the trap sprung it spit Tinbender out of the arena. Rats! Ok, Mark bring out Run Amok and we'll pit it against Flexy-Flyer!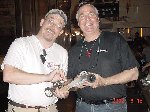 ---
Botbash results
13 lb:
1st - Alpha Pujo (Team Cosmos)
2nd - Io (Team Cosmos)
3rd - Li'l Terror (The Robot Boys)
4th - Kram
5th - Dandelion
6th - Lil' AK
7th - Tangled Marionette
8th - Voices
9th - Anaphoric Antagonist 0.9
10th - Centrifugal 11th - Enforcer
12th - Sonic
13th - Mo-Bot
14th - Saki
15th - Hell on Wheels
30 lb:
1st - Helios (Team Cosmos)
2nd - Wedgeward-Ho (Robotdojo)
3rd - Sunflower (Team Daisy)
4th - Dung Beetle
5th - JB Johnson
6th - Twibill Trouble
7th - BVD
8th - Titanium Blonde
9th - Breaker
10th - Baka-Bot
11th - Squnkey
60 lb:
1st - Alien Raptor (Team Raptor)
2nd - Small Bite (Coolrobots)
3rd - Terror (Team Snook)
4th - Binary Finery
5th - Sloppy Spelling
6th - D2
7th - Deuterium
8th - Archetype
9th - I-Botic
10th - Enrique
11th - Gray Peril
12th - Troublemaker
13th - 1st Abe Lincoln on the Moon
14th - Bot Trap
15th - Blackhawk
120 lb:
1st - Full Frontal Fulcrum (Robotdojo)
2nd - Aconite (APSF Robotics)
2nd - Karcas (Mutants)
4th - Worm Incinerator
5th - Snapper
6th - All Weather Tire Bot
7th - Mixed Drink
1 lb Sozbot:
1st - Same-O Inferno
2nd - Jimmy Crack Corn
3rd - LB
4th - Ether
...
8th - Tinbender
...
22nd
---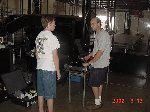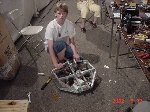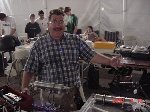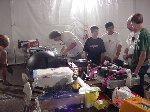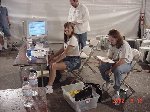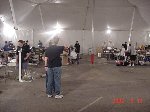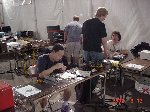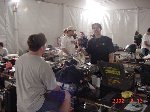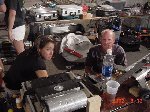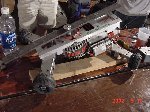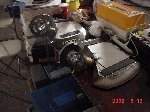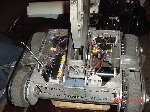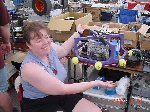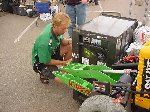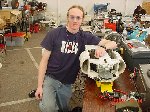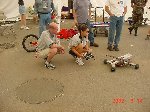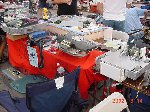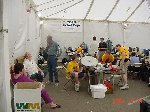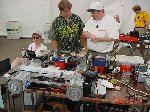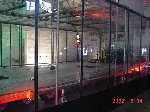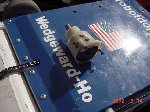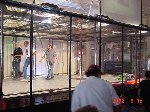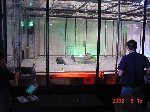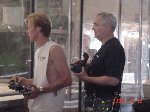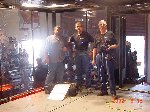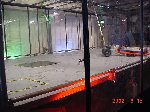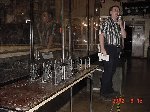 The Folloeing pictures were taken by teammate Tim McTigue: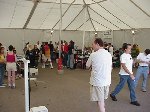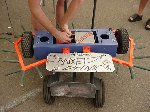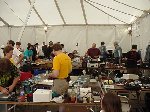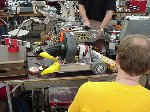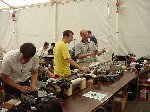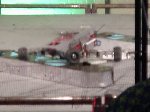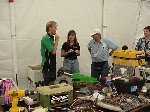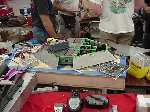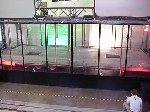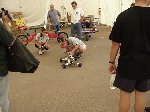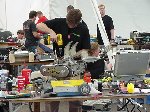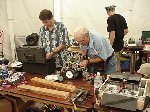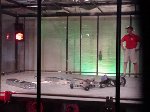 ---
Copyright © 2012 Mike Konshak. All Rights Reserved.
Contact HM 303-673-9853